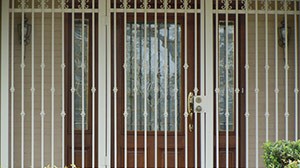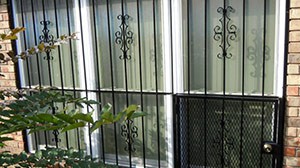 We are a full burglar bar steel company that offers custom design and professional installation to your entire project from initial sketches to the final delivery.
Start where the burglar does…from the outside. A burglar's first view of your home is usually from the street. What he sees will often determine whether he attempts forced entry. When casing a neighborhood, burglars look for easy excess, homes that appear unoccupied. Making your home appear occupied and having security storm doors and fire safety burglar bars are the most important part of an effective home crime prevention system. Burglars can break through windows and doors in your home and use them as Entry points. It is an everyday common experience.
So the question is can you prevent forced entry into your home. Unfortunately, you can't prevent forced entry, but you can slow them down and make it more difficult. If someone wants to get in badly enough they can do it. Installing burglar bars and security storm doors on your home slows them down, and in most cases prevents it all together. You see, the burglar bars and security doors are a physical deterrence and a visual deterrence as well. When a potential intruder sees your property is protected with these burglar bars and security storm doors they are more likely to avoid your home for an easier target. The burglar wants easy access. Installing burglar bars and security storm doors from AAA Custom Burglar Bars protects your home, valuables, and loved ones. Get peace of mind and call us today! or simply, fill out our contact form.